Single-family house in a quiet area of Masuria on Lake Kalwa, not in close proximity. For guests 3 bedrooms with double beds and a living room with sofa. Kitchen with dining room and bathroom. In the area it is possible to organize canoeing trips around the Kośno reserve. Nearby there is a gym and a swimming pool, as well as the possibility of renting water equipment. A perfect place for someone who needs a break from the hustle and bustle. The surrounding beaches will be an additional attraction.
What guests are saying:
"One of the best places on AirBnB in Masuria. The house is very spacious, beautifully furnished, with all amenities. The Internet worked very well - even to watch movies from Netfilx. An ideal place for families with children. In addition, a beautiful garden and a stone's throw to the nearby beach, where you can relax without crowds of people, as well as go swimming or fishing from the pier. Very calm and quiet neighborhood, not far from a good restaurant with regional dishes. Next to the beautiful Pasym to explore and about 25 km to Olsztyn. And now the most important - nice lady host, we have not met such a nice person for a long time - a wonderful host who is a wonderful person, warm greetings and see you."
Elganowo 43 is situated between Szczytno and Olsztyn. The nearest town is Pasym about 5km where you will find a bus station and a railway station which can be reached without your own means of transport. Elganowo 43 is a "zone of silence", nothing but enjoy the country air and commune with nature, outdoor sports;) We invite people who value intimacy, groups, families with children.
What guests are saying:
"Zur Begrüßung wurden wir bereits herzlich zum Grillen eingeladen. Dort konnten wir die anderen Gäste kennen lernen. In dem weitläufigen Gelände und der gemütlichen Wohnung haben wir uns wohl gefühlt. Die Gastfamilie ist sehr freundlich und war immer ansprechbar. Für alle Naturliebhaber sehr zu empfehlen. We were cordially invited to the grill. We could meet other guests. We had a good feeling going to you. A cozy flat surrounded us and we were surrounded by beautiful grounds. The family is very warm and you can always count on them. For all nature lovers worthy command. For the welcome we were cordially invited to the barbecue. There we could meet the other guests. In the spacious grounds and the comfortable apartment we felt comfortable. The guest family is very friendly and was always approachable. For all nature lovers highly recommended."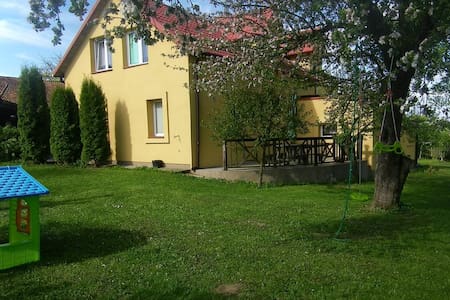 SUPERHOST
Private room · 4 guests · 2 beds · 1.5 shared baths
Agroturystyka Mazury - Elganowo - Pokój niebieski
Elganowo 43 is a picturesquely situated village among the Masurian lakes. We offer rooms in a renovated 80 year Mazurian house guaranteeing peace, quietness, comfort :) We provide active recreation, we provide equipment for Crossfit, Street Workout, playground ..., Ping Pong ... At your disposal are one 4 bedded room with two double convertible couches. The house has a common room, a fully equipped communal kitchen, a bathroom near the room and a shared bathroom.
What guests are saying:
"הגענו למקום הנפלא הזה לחפש שקט, נוף יפה והרבה כייף לילד הקטן שלנו. שכרנו חדר אחד בבית של המארחים המקסימים שדאגו שיהיה לנו הכי נוח וכייף בחופשה שלנו. אנשים מאוד נעימים, שקטים ודואגים. בית מאוד יפה, אותנטי ונוח. מסביב יש שטח פרטי גדול מאוד שבו יש הכל לחופשת הילד (כמו טרמפולינה, אופניים, מכוניות, מגלשה, ארגז חול דברים אחרים). בשטח יש גם עגמון פרטי קטן עם סירה וגם יכולת לדוג. שני כלבים מקסימים שאוהבים ילדים. חגגנו יחד שם את היומולדת שלי. היה מקסים. בן של הזוג גם אירגן לנו ערב נחמד מאוד עם מדורה ונקניקיות טעימות. היה לנו ממש מקסים! ממש ממליצים לבוא למקום!"