Our Molokai Shores Condo is a newly renovated 1 bedroom unit. It is located approximately a mile and a half East of rural Kaunakakai town on the island of Molokai (not on the island of Maui) and offers a beautiful pool and grounds setting. It's name "Hale Kupa Aina" refers to a house or home (Hale) by simple island people (Kupa Aina).
What guests are saying:
"I would give Camie six stars if I could (or eleven, or a hundred), but Airbnb limits it to five so there we are. Camie went above and beyond, meeting us in person and taking time to help us feel very comfortable and to understand the area. The apartment (which is lovely) was prepared with maps and a very detailed binder with places to go and things to do, menus for every restaurant in the area, and contact info for people who could help us find anything we might want (bikes, boat trips, local history, and so much more). We wish we had longer to stay and explore more. We also enjoyed that the apartment complex had community-use grills (both gas and charcoal/wood) overlooking the beach and made a couple tasty meals out there."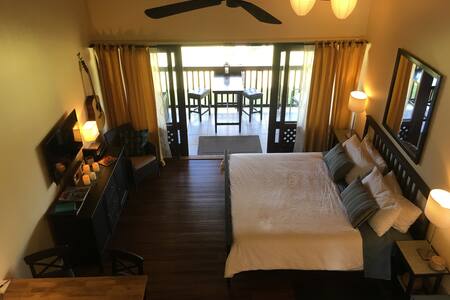 SUPERHOST
Entire condominium · 3 guests · 1 bed · 1 bath
Sweet Upstairs Corner Ocean View Studio on Molokai
Top floor corner unit at Kepuhi Beach Resort on the special island of Molokai. Vaulted open ceilings, spacious and airy. Completely remodeled and freshly outfitted. Close to beach and ocean-side pool, views of Kaiaka Rock, ocean surf, vivid sunsets. Fully equipped kitchen, luxurious king bed with twin mattress beneath. Fast wireless , 40" SmartTV. Perfect setting to unplug, hike or bike the red dirt trails, explore beaches, and experience Molokai fully.
What guests are saying:
"Sharon's place turned out to be much better than we expected. We were looking for relaxation and the magic of Hawaii. We were surprised by how beautiful the setting was in this former Sheraton resort. While some parts of the property are in need of repair, it is beautiful nonetheless. Sharon's studio has a roomy deck with spectacular views across the landscaped lawn to crashing waves against the nearby headland. We awakened some mornings to the sweet roar of tropical rain on the roof, others to a chorus of birdsong. It is a lovely place. Sharon has made it efficient and comfortable. The wi-fi is good. And she and Albert kept in close touch by being easily reachable the whole time. We would not hesitate to seek out this place for another visit."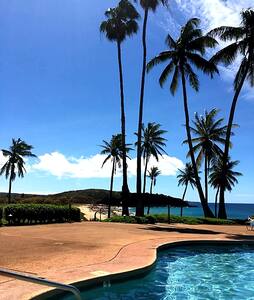 SUPERHOST
Entire condominium · 3 guests · 1 bed · 1 bath
Magical Molokai❤️Beachfront condo,stunning sunsets
This is not on Maui ! Our price is one of the lowest on Molokai, we share the Aloha spirit. Condo is bright, light and peaceful. Now is the time to slow down, breath in & soak in the beauty of the island. Molokai a place of renewal. Birds awake you w/ song, deserted beaches, sunsets paint the sky & the waves will lull you to sleep. *snorkeling, swimming, golfing, fishing, mule rides, whale watching, hiking, waterfalls, Mai tais, tiki torches, Hot bread & the ukulele. ♥🌴🍍
What guests are saying:
"Bernadine's condo is an absolute treasure! We arrived for our weeks stay at night and so other than the funny Bufo toad that greeted us upon arrival, we had no real idea of how gorgeous the area was until we heard the singing of hundreds of Myna birds the following morning. They roost in the banyan trees and start up quite the chorus each morning when they wake and each evening when they come back to their trees to sleep. While we were out listening to the Myna's chirp, a bunch of wild turkeys strutted by with the male's feathers all fluffed out. We then saw gorgeous white Egrets flying and landing near our lanai during our breakfast. Bernadine's entire condo is exceptionally well stocked with everything we could need for a stay. Far more than several other stays we have rented. MANY towels, slippers, snorkel gear, clothes drying rack, sun tops, iron, ladies sun hat...her kitchen, (unlike most stays that just have the basics) had so many kitchen tools it felt like we were in a home. More than enough dishes, glasses, cooking utensils, cheese graters (2!), bottle openers (3!) baking dishes, mixing bowls, a blender, Waffle iron... and so much more. We cooked for ourselves most of the time and had every single item we needed for our various meals. Having an entire wall of windows/screen was wonderful! It really opened up the already bright space and brought the outside in. We loved exploring the local beaches, lava formations and tide pools for small fish and the exceptionally talented Robin, a local gentleman, played a song on his trumpet each night near the beach at sunset. Listen for him, he makes a few trumpet calls about 15 minutes before sundown to let you know he is warming up and getting ready to play. We are already planning our trip back for next year. This time for twice as long!"