In this accommodation complex you can enjoy the pastoral and green views of the moshav environment, relax in a camping yard which includes seating systems, BBQ, pampering facility. Fully equipped trailer with 4 bedrooms, living room, shower and toilet, central air conditioning system, smart TV, coffee machine and microwave. Suitable for people who love nature and quiet
What guests are saying:
"לקחנו 4 חברים את המקום ללילה אחד, בין חמישי לשישי, בסוף פברואר 2020. לא היתה בעיה לבצע צ'ק אין מוקדם מהרגיל, והמארח מתן כיוון אותנו ישר לנקודה. הלוקיישן התגלה כמדהים ממש; קרוואן גדול ומפנק עם ארבעה חדרי שינה זוגיים, נקי ומצוחצח, עם חצר פרטית שפונה לנוף חלקות חקלאיות של המושב ועוד פיסת יער מטורפת היישר מולנו. זה סיפק נוף מדהים בשקיעה. במרחק כמה דקות הליכה מצאנו עצמנו בתוך יער שופע רקפות וכלניות ובתוך טבע מוחלט. באמת מדהים. החצר עצמה מאובזרת בעמדת מנגל ארוכה ועמדת פויקה לרציניים. יש גם שולחן בר ארוך שפונה לכל הנוף המטורף הזה.. באמת הפתעה של ממש. מתן היה מארח מושלם :-) היה זמין לכל שאלה ובקשה שלנו ואף סיפק לנו עצים לפויקה כשחסרו לנו. אין לי ספק שעוד נשוב למקום הזה כי מדובר בתמורה מעולה לכסף, ובלוקיישן קסום ממש."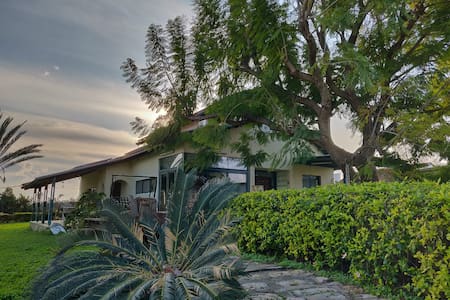 SUPERHOST
Private room · 2 guests · 1 bed · 1 private bath
A countryside villa btw Jerusalem and Tel-Aviv
A beautiful spacious countryside villa in Israel. Located exactly in the middle of the road between Jerusalem and Tel-Aviv, 30 minutes each direction. Easy to get with a car (public transportation requires taxi service from near train stations). Quiet, full of light, and a great view to a true countryside landscape. The hosts offer 1 large and furnished room. * The ad is for a room inside the house we live. * The room is located in the second floor (using staircase to the second floor).
What guests are saying:
"Omer and his family were extremely hospitable, willing to provide help and assistance anytime. Nitza did everything to make us feel well and comfortable. The house was clean and we felt at home there. We also liked the location at countryside with beautiful surrounding. Good alternative for stay when travelling to Jerusalem."
Located in the Heart of Ramat Beit Shemesh Aleph, In a religious Area ,our beautiful new suite has brand new furniture and appliances. Our newly renovated space comes with two Single Beds , small fridge, Bathroom, hanging space, a kettle (for shabbat too) and luggage storage space. The suite is equipped with a Brand new top of the line AC / Heating unit, easy access to Parks, Shuls,Restaurants, and more.
What guests are saying:
"ממש נקי, נעים ומזמין. מיטות מאוד מאוד נוחות. המקום ממש קטן -קצת כמו באולמות התצוגה באיקיאה:-). גם, צריך לקחת בחשבון ירידה במדרגות כדי להגיע למקום, אז מי שיש להם קושי עם מדרגות זה פחות מתאים. אנחנו ממליצים בחום! היה מצוין"