Ισόγειο διαμέρισμα 86τμ σε διπλοκατοικία που αποτελείται από σαλόνι, δύο υπνοδωμάτια,κουζίνα,μπάνιο, βεράντα, με χώρο στάθμευσης μπροστά στο σπίτι.Απέχει 3' με τα πόδια από το θεματικό πάρκο "Ο μύλος των ξωτικών", 1χλμ. από το κέντρο των Τρικάλων και 750 μ. από το σταθμό των τρένων.Βρισκεται κοντά σε δύο super markets, στάση λεωφορείου και σε ιδανικό σημείο για εξορμησεις στα Μετέωρα,Καλαμπάκα,Ελάτη,Περτούλι, λίμνη Πλαστήρα
What guests are saying:
"No matter how many times we had looked at going to airbnb we never made the decision because we were just scared that it wouldn't be like we saw it .... Wrong !! In this case everything was as it should be !! A very nice, warm house ready to accommodate us for our outing. A full kitchen and warm cozy beds. At some point when we were shut out .... there was immediate help on their part !! Thank you. We highly recommend it"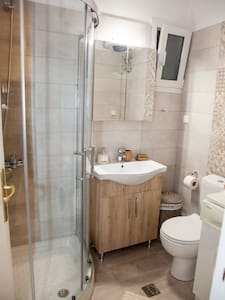 SUPERHOST
Entire apartment · 4 guests · 3 beds · 1 bath
Διαμέρισμα 50τμ-κέντρο Κοζάνη Studio Kozani centre
Το διαμέρισμα βρίσκεται στον 1ο όροφο πολυκατοικίας, 5' με τα πόδια από το κέντρο της πόλης και 3' από τα ΚΤΕΛ. Διαθέτει αυτόνομη θέρμανση 24ώρες & air-condition & είναι πλήρως εξοπλισμένο με όλες τις οικιακές συσκευές. Μπορεί να φιλοξενήσει μέχρι 4 άτομα σε ενιαίο χώρο (1 διπλό κρεβάτι και 2 καναπέδες-κρεβάτια).Παρέχει εύκολη στάθμευση στο δρόμο και βρίσκεται δίπλα σε 2 φημισμένους,αποκριάτικους φανούς (Αλώνια,Αριστοτέλης).Οι επισκέπτες μας θα απολαύσουν την παραδοσιακή κοζανίτικη φιλοξενία!
What guests are saying:
"We were greeted by Pery's father, Antonis. He was courteous, genuinely polite, and hospitable. He made us feel welcome. The apartment was sparkling clean, towels smelled fresh and linen was nicely ironed. Things like oranges in the fridge to make orange juice and moisturizing cream in the bathroom for my super dry hands showed that the hosts care for their guests. The place was conveniently located and very quiet. Thank you Pery and Antonis."