Experience tiny house living in a woodland pocket just outside the city. This unique and comfortable space offers a light and airy Scandinavian retreat with a wall of windows to the surrounding green. Located in beautiful horse farm country close to Woodstock and Alpharetta, it's also an easy drive to numerous hiking and biking trails, rivers, lakes, and parks. Enjoy both metro Atlanta living and nature exploration from this serene tiny house getaway.
What guests are saying:
"Best place ever! This was the perfect place to go for a mini getaway ! We are back in Florida and my boyfriend and I have not stopped talking about this tiny home! On our last day, we happened to post a picture of the outside of the tiny home and ended up having so many friends flooding our inbox . Like us, they fell in love with this beautiful home (luckily we had the opportunity to experience this gem in person rather than in pics) . The tiny home had everything we were in need of (and more). The place was spotless with so many personal touches! Lauren was an excellent host, she messaged us with info days before our trip and when we arrived we found fresh bread and a bottle of wine. My boyfriend couldn't stop mentioning the bread. He loved it sooo much he asked me to mention it once again on this post! 😂 The 7 hour drive was so worth it !! We hope to be back soon. Thank you so much Lauren!"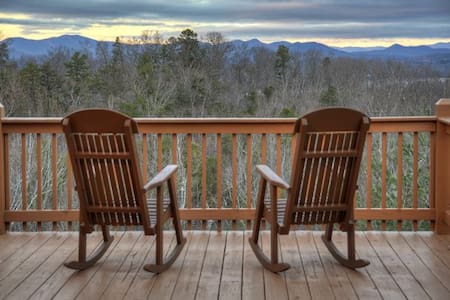 SUPERHOST
Entire cabin · 6 guests · 4 beds · 2 baths
NEW! WAS $235, TOP OF MTN, LAKE BR ACCESS, FIREPIT
L-I-V-I-N. That's what you do in this authentic log cabin so high in the sky it'll give a bald eagle a nose bleed. Step out to an ASKA TRAIL access point or stay in and enjoy ENDLESS PANORAMIC VIEWS from FOUR BALCONIES above LAKE BLUE RIDGE. With BIG-OLE rooms & HIGH ceilings you can't escape the view unless you're cozied up to the 100" PROJECTOR. Outta popcorn? Downtown BR's only a 15-min PAVED drive away! So stop waiting, bring yer DOG(s), yer BOAT & start L-I-V-I-N.
What guests are saying:
"Just what we needed for a quiet and peaceful vacation. Beautiful view of the mountains! My kids and fiancé loved the card table and ping pong, and we enjoyed relaxing in the hot tub and by the fireplace. The dogs loved the outdoor area for potty, the wrap around porches they could hang out on (without the fear that they could get out since both sides shut), and they even loved the rope toys they found with the board games :) We would definitely stay here again!"
Ultimate mountain retreat to get away from it all. Wanna a unique lodging experience in a natural setting? star-gazers? Our mountain top location of Lookout Mountain has many faces to show. Our yurts are surrounded by the mountains trees, and with colorful scenery, you would feel autumn dancing in the mountain breeze. In winter and spring, the beautiful vistas of the Chattanooga valley provide total serenity. During summer, you would find yourself tucked away in a peaceful forest.
What guests are saying:
"Our experience was pretty amazing at Rodney's Yurt. The Yurt was completely spotless and looked very updated and new. The Yurt had plenty appliances that made cooking for 3 whole days pretty easy. The placement of the yurt to the view was perfect and very pretty. The check in process was very smooth. Finding the location was pretty easy and the parking spaces was great. The yurt has self check in abilities, which was easy. Rodney was very professional and as you walk in the yurt, you can see that his Airbnb business is registered and has a good relationship with the Department of Health. The paperwork shows that his yurt passes all requirements for business. This is very good to know during an pandemic. We highly suggest this experience to anyone!"