hello!入住前需要您留意实拍图片 与⚠️#注意事项#⚠️ 疫情期间请配合小区登记与测温工作. (分享自家房源,非酒店或者民宿型公寓,并没有类似酒店服务和标准. 不是聚会的好地方. 只能入住人正常入住. (全自助) 不提供入住前和退房后的寄存行李. 不提供发票. 如果您不喜欢自助或者此类共享方式,不建议您入住. ——不设看房—— ——支持环保,不提供一次性洗漱用品—— ——生活垃圾需要您自行带到楼下垃圾桶—— 人车分流,非自驾需要走路进去小区. 自驾可直达电梯口旁的私家车位. 入住时也类似您到朋友家借宿,保持清洁,用过的东西归位.
What guests are saying:
"The second time I stayed, every time I came to Jiangmen, I would choose here. The cleaning was very clean, and the landlord responded promptly and praised."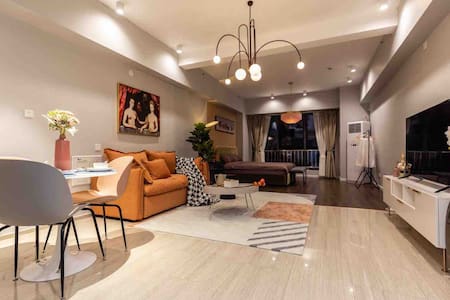 SUPERHOST
Entire apartment · 2 guests · 1 bed · 1 bath
1#🎈月租,长租优惠【江门万达广场】市中心,汇悦城,华侨广场,五邑大学,干净整洁,高档床品,宽敞舒适
You are welcome to choose this homestay. I hope you can treat the cottage as a friend's home to respect and care for it as your own home to enjoy the atmosphere. It will make your trip worthwhile. The house is located in the center of Jiangmen Wanda Plaza apartment near the star park , Wanda Shopping Plaza, Pedestrian Street, Office Building, Huiyue City, Huaqiao Plaza Park, Wuyi University and Jiangzhe Bus Terminal are all within a short distance of over 50㎡. The largest unit in Wanda Apartment is divided into bedroom, living room and dining area, which is particularly spacious. 3-5 colleagues have a small meeting, friends gather together to watch the ball. Elegant women make a yoga family. Children can roll around, happy games will not feel constrained and restrained, and enjoy a calm space. This homestay is designed by professional designers. Paired with a chic atmosphere, simple yet warm style of chandeliers, each piece of the Louvre's art deco paintings is exquisite, hearty, retro and romantic. The house uses professional cleaning staff to clean the bedding, towels, and bath towels for each customer. It is equipped with a Gree large space air purifier. After cleaning, it will disinfect a UV lamp and disinfect some surface items. Supplies and food are free of charge, but smoking is not allowed to leave the house. No smoking is allowed. If there are children staying, you can communicate with the landlord. Fragile supplies in the house can be put away in advance. Thank you! Beautiful house will welcome you beautifully
What guests are saying:
"Great experience, except for the color of the quilt, the house is exactly the same as the picture! Praise"
"My trip" is located in the core business district of Jiangmen City, the 17th floor of Block 3 of Morgan International Apartment, Wanda Plaza, Aoyuan Square, Sports Park, Baishi Food Street, close to the street, stylish music bar downstairs, special diet Lin Li is the best choice for business and tourists. The hotel's unique phantom ceiling design is uniquely luxurious, impressive and lingering. The style of the home, each theme is different, giving you a different mood. "I am my family" is a business entity that integrates accommodation, entertainment and leisure, and special catering in the form of a semi-club. It adheres to the business philosophy of "personality is supreme, warm and home-like". It is mainly aimed at young people and gives young people a physical platform for self-realization and interaction.
What guests are saying:
"The location of the B&B is relatively close to the commercial street. It is very convenient to travel. The layout of the B&B is basically the same as the picture. It is a satisfactory stay."